Best Tax Software Solutions for 2021
Some or all of the products/services listed on this page are from our affiliate partners from which we receive commissions. This, however, does not influence the evaluations in our reviews. Learn more by reading our
Advertiser Disclosure
.
Does thinking about filing your tax return give you shivers? We can all agree that tax-related tasks are no fun. Luckily, there is a way to lower your tax season stress levels that doesn't include paying a lot of money to a CPA or other tax professional. Instead of undertaking the task all by yourself, you can use a tax program.
Designed for individuals and business owners with little tax knowledge and even less filing experience, the best tax software solutions can help you file your return correctly, get the maximum possible income, and avoid audits - all for a fraction of the fee a CPA would charge.
Taxes are complicated and confusing enough without the added stress of determining which tax software solution is the best fit for your situation. That's why we've done the research and come up with a set of criteria to help you choose the perfect option.
Tax Software Solutions - 4 Best in the Industry
H&R Block
Our Rating
Fortunly's Rating: Our editorial team determines the rating based on a set of evaluation criteria developed for each product and service category.
•

Wide range of tax forms covered

•

Ability to upload W-2 from your phone

•

Easy-to-use interface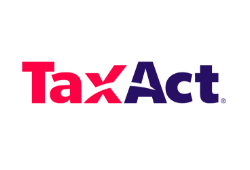 TaxAct
Our Rating
Fortunly's Rating: Our editorial team determines the rating based on a set of evaluation criteria developed for each product and service category.
•

Competitive pricing plans

•

Year-round tools to help you save on taxes

•

Excellent refund policy
TaxSlayer
Our Rating
Fortunly's Rating: Our editorial team determines the rating based on a set of evaluation criteria developed for each product and service category.
•

Pricing varies by support level

•

Simple tax returns can be filed for free

•

Low additional fee for state returns
FreeTaxUSA
Our Rating
Fortunly's Rating: Our editorial team determines the rating based on a set of evaluation criteria developed for each product and service category.
•

One of the market's most affordable options

•

Access to tax and audit specialists

•

Free tax calculator
Picking the Best Tax Service: Our Methodology
Before you start exploring the market, it's vital to establish a set of relevant criteria and make sure that the option you decide to go for meets all the requirements of your specific tax situation. The tax software industry is very competitive nowadays, so to help you make the best choice, we've looked at more than a dozen providers and made a list of the most important aspects to take into account. Here's how we identified and evaluated our top picks.
Pricing
Affordability is one of the biggest advantages of online tax filing companies. According to a recent survey, the average cost of hiring a tax professional to file your federal and state return is $176, although the figure can go up to as much as $1,563. On the other hand, if you decide to give tax filing software solutions a chance, you'll probably pay less than $50.
That said, no two tax programs are made the same. Some charge a flat rate, others have a tiered offer, and certain companies even provide a free service to some extent. Either way, the best providers are those that are fully transparent about the level of service they are willing to provide for a certain fee.
Features
No tax program - online or downloadable, paid or fee-free - will do you any good if it can't handle your tax situation. Given that functionality is as important as cost, evaluating these two factors side-by-side makes perfect sense.
Decent tax software solutions should let you upload your return from the previous year, support all kinds of tax forms, offer options for different types of credits and deductions, walk you through the filling process, and offer assistance every step of the way.
It doesn't matter if you have a W-2 income, work as a freelancer, run a small business, or anything in between - the best tax software providers will be able to meet your needs.
Guarantees and Reimbursements
When shopping for tax software, you should always check whether the solution you've decided to use offers accuracy guarantees, reimbursements, and refunds.
If the software you've decided to purchase doesn't come with a 100% accuracy guarantee and a reimbursement policy that protects you from any penalties or interest the IRS may impose due to miscalculations or system errors, you should keep looking.
User Experience
For most people, the best place to do taxes is one that doesn't come with a steep learning curve and can help you complete your tax prep in less than an hour. If you don't have a lot of experience, detailed explanations of important tax concepts, clear instructions, and an easy-to-use interface can go a long way.
Even if you're a pro at tax return prep, you'd be better off using neatly designed software that will help you get the job done as quickly as possible and keep up with any regulation changes.
As far as platform types go, most of the providers we've looked at offer online solutions, downloadable software versions, and accompanying mobile apps.
Support Options
A professional customer support department plays a huge role in offering a high-quality user experience. The best tax software for the self-employed, small business owners, investors, or individuals in any other tax situation should come with a wide range of support channels.
These usually include email, phone, live chat, contact forms, on-site and in-app help centers, and knowledge bases.
Quick Breakdown
4 Best Tax Software Programs of 2021:
FAQ
What is the best tax software?
It's hard to give a simple answer to this question. However, there are a few things that you should keep in mind when looking for the tax preparation and filing software solution that's a good fit for your tax situation.
Make sure that you opt for a provider that offers an affordable and reliable service with the right amount of support and completely transparent refund and reimbursement policies. To help you make a choice and make the process less complicated and time-consuming, we've made a list of professional tax software providers you should consider. These are H&R Block, TaxAct, TaxSlayer, and FreeTaxUSA.
Why do people need tax software programs?
Tax software solutions help taxpayers with little to no tax knowledge file their tax returns accurately, get the maximum refund they are entitled to, and avoid IRS audits. Best suited for individuals with relatively simple tax situations, these services are as reliable as hiring a tax expert, but much more affordable.
What are the advantages of using tax preparation software?
The most significant benefits of using a software or an app to prepare and file your federal and state tax return include affordability (the industry's top competitors offer their services for a fee below $50), speed (with most tax programs, preparing and submitting your return won't take more than 30 minutes), and ease of use (most tax software options provide a step-by-step filing model that helps you avoid costly mistakes).
How much does tax software cost?
According to a recent survey conducted by the National Society of Accountants, individuals who hire tax professionals to help them file their tax returns pay $176 on average.
However, the cost of hiring a tax expert can go up to as much as $1,563. On the other hand, the best tax software providers charge less than $50 to prepare even more complex tax returns. What's more, their services usually come with 100% accuracy and a maximum refund guarantee, along with reimbursement for any losses due to system errors.