The Best Binary Options Brokers for 2022
---
Some or all of the products/services listed on this page are from our affiliate partners from which we receive commissions. This, however, does not influence the evaluations in our reviews. Learn more by reading our
Advertiser Disclosure
.
Ever since binary options trading got officially recognized by the US Securities and Exchange Commission in 2008, this type of trading has become a popular choice among retail investors. Consequently, the list of trading platforms on offer has grown significantly, making it hard to identify the best binary options brokers in the USA.
While finding a trustworthy broker is a necessity in any trading branch, this is particularly important when derivative assets such as binary options are in question. To help you narrow down your options and find the broker that meets requirements, we've looked into dozens of choices and identified the best of the best. Keep reading this article to learn more about our top picks.
Finding the Best Binary Options Brokers
With the binary options market rapidly expanding, there are dozens of platforms for this type of trading on the web. While some exchange websites are regulated and completely reliable, there are just as many online options trading platforms that are risky or even operating illegally.
If you are on the hunt for the best place to invest in binary options, make sure to take the following criteria into account.
Regulation
Regulated binary options brokers in the USA typically hold licenses issued by the same agencies as platforms offering other types of options trading. Regulatory authorities with a significant presence in the United States are the Commodity Futures Trading Commission (CFTC) and Securities and Exchange Commission (SEC). Note that some exchanges may operate under the supervision of a UK licensing agency or an authority located in other parts of the world.
Given that there are still many unregulated brokers within the industry, make sure that the platform you've chosen for your binary trading endeavors is entirely safe and secure.
Underlying Assets
So what are underlying assets when it comes to binary options, you may wonder? In this context, an underlying asset is an instrument you choose to bet on. In other words, you select a financial product and predict whether its price will increase or decrease over a set period. While some exchanges may offer more than 100 underlying assets, the most common instruments include cryptocurrencies, Forex, stocks, indices, and commodities.
If you'd like to speculate on the price of a specific underlying asset, make sure that you opt for the best binary options software that will meet your requirements. You may also benefit from a platform with a wide range of financial products on offer.
Account Minimums and Fees
When comparing online trading platforms, one of the first things you should check is the minimum amount the platform expects you to invest. This is especially important if you're new to the world of binary options trading. Account minimum requirements can range from a few dollars to several thousand, depending on the site's policies.
If you don't want to risk more than a few hundred dollars, don't feel pressured to invest more than you can comfortably afford - make sure to choose a binary options low-deposit platform. On the other hand, if you aren't a complete beginner and are hoping for a higher payout, we suggest you look into solutions with higher initial deposit requirements.
Moreover, don't forget to examine brokers' fee schedules. Make sure that you understand what the minimum trade amounts imposed by different platforms are. Some brokers, for example, may require minimum trade amounts of $20. Others, however, may let you enter a trade with just $1.
Payouts
As you look for the best binary options broker, remember to look at different sites' payout rates and expiration times. Note that some brokers place caps on the amounts users can withdraw from each payout, such as $2,000 or $15,000. Other platforms charge fees on each end of the trade, leaving you with a maximum payout of 85% or 90% of your total profit.
Note that the payout rate can vary significantly depending on the expiration time and the underlying asset of the trade in question. Additionally, the rates can differ on a trade-by-trade basis, as brokers are constantly trying to maintain acceptable risk levels. So, if you are not sure how to trade binary options successfully, look for a platform with a solid general payout percentage.
Demo Account Availability
If you are still learning about the ins and outs of binary options trading, a platform with a demo account functionality is the right choice for you. With many online trading platforms, as a prospective user, you get the opportunity to test out all the features they offer to binary options traders without running the risk of losing any money. By investing practice funds, you get to explore all the functionalities different platforms offer and build your confidence for the paid trading account.
Another great thing about demo accounts is that you can try out several binary options brokers before choosing the one that best fits your investing style. While evaluating different platforms, make sure to look at technical indicators, risk management tools, and the user interface.
Deposits and Withdrawals
Trustworthy brokers should be transparent about what types of payment methods they support: The best platforms typically accept credit cards, debit cards, e-wallets, cryptocurrencies, and wire transfers. As you search for the right platform, think about the payment methods you'd prefer to use.
Once you earn profits on your binary options contracts, you'll probably want to cash out the funds as quickly as possible. The best binary options brokers in the USA offer lightning-fast withdrawal times, allowing you to cash out your funds in just a few hours. Other sites, however, may take up to five business days to process your withdrawal request.
Trading Apps
Long gone are the days when trading wasn't easily accessible to everyone. Nowadays, most trading sites offer both browser-based and mobile applications, and the same goes for binary options trading.
If you plan to do most of your trading from the comfort of your home, using your desktop or laptop computer, a browser-based platform should easily meet your needs. However, if you'd enjoy the convenience of being able to trade binary options or check up on your account from anywhere using your smartphone, make sure that you look for solutions compatible with iOS and Android.
Quick Breakdown
Top-Rated Binary Options Trading Platforms:
Pocket Option - Best asset variation

Binarycent - Best for beginners

Nadex - Best Overall

CX Markets - Best for low fees
Binary Options Trading Platforms Reviewed
Pocket Option
Owned by Gembell Limited, Pocket Option entered the binary options online trading market in 2017. Based in the Marshall Islands and regulated by the International Financial Market Relations Regulation Center (IFMRRC), this provider welcomes traders from more than 95 countries - including the United States - and has already served more than 10 million users.
Given its innovative trading platform with convenient payment methods, low minimum deposit requirements, high payout rates, and an excellent variety of technical analysis tools, we recommend Pocket Option as one of the best binary options brokers in the USA.
There are more than 100 assets to trade, including Forex, cryptocurrencies, stocks, indices, and commodities. If you have the good habit of testing a platform before making a deposit, you'll be glad to hear that this provider lets you create a demo account with $10,000 in practice funds to try out all the features available without running the risk of losing anything.
If you are new to the world of binary options trading, you'll appreciate that the minimum trade amount at Pocket Option is only $1, which will give you a chance to start small and minimize your risks. As per returns, the site claims to offer payouts as high as 218%.
This provider's binary trading platform is compatible with iOS, Android, Windows, and all the most popular web browsers so that you can make binary options trades wherever and whenever you'd like.
Another great thing about Pocket Option is how easy it makes depositing and withdrawing funds. Payment methods include credit cards, debit cards, e-payments, and cryptos. The minimum deposit amount is $50, while the minimum amount you'll be able to cash out is $10, meaning that you won't need to build up massive profits before making a withdrawal.
As one of the best binary options brokers with low minimum deposit requirements, Pocket Option offers a unique social trading feature. Particularly useful for those with little trading experience, this functionality lets you keep an eye on other investors' trading habits, monitor their progress, and even set up automatic trade orders that will copy the strategies of the most successful binary options traders.
New investors will also appreciate the site's comprehensive education section, brimming with detailed tutorials and guides.
Reason to use this platform:
Easy payment processing
Diverse trading instruments
Trading indicators and signals
Payouts up to 218%
Comprehensive knowledge base
+ Show more
Binarycent
Minimum trade size:
$0.10
Maximum returns:
Up to 95%
Established in 2017, Binarycent is another Marshall Islands-based binary options trading platform, owned and operated by Wave Makers LTD. Focused on Forex and CFDs (Contract For Differences) in addition to binary options, this online broker is a little different compared to other providers on our lists.
Given its low minimum investment requirements (starting from just $0.10), Binarycent is a top choice for both new investors and seasoned traders. Furthermore, this provider offers expiry times as short as 60 seconds and payouts as high as 95%.
Depending on your initial capital, as one of the most flexible binary options brokers, Binarycent has three account types on offer:
The Bronze account features round-the-clock video chat support, withdrawal processing in one hour, a demo trading account, a 20% deposit bonus, and the Copy Trading tool, which lets you monitor and replicate successful traders' strategies with a single click. It's meant for those who want to invest between $250 and $1,000.
The Silver option is available to traders who deposit between $1,000 and $3,000. It comes with everything offered in the Bronze tier, with the addition of a 50% bonus, three risk-free trades, and a Master class.
Lastly, the Gold option is meant for a binary trader who wants to deposit up to $25,000. It offers everything included in the first two account plans, plus a 100% bonus, and access to a personal success manager.
One of the best things about BinaryCent is that it operates non-stop, even on the weekends. It's also important to mention that the platform supports a wide range of deposit methods, from credit cards to cryptocurrencies, and processes transactions very quickly.
While this is one of the market's top-rated binary options sites, it still has a few downsides. The main disadvantage of Binarycent in comparison with other popular binary options trading platforms is that it doesn't offer trade signals. In other words, you'll have to rely on asset analysis to make a successful trade.
Reason to use this platform:
Round-the-clock video support
Trading contests
Low minimum-trade requirement
Three account packages
Withdrawals processed in an hour
+ Show more
Nadex
Launched in 2004, Nadex, short for Northern American Derivatives Exchange, is a US-based exchange for online binary options, call spreads, and knock-outs. Based in Chicago, Illinois, this provider is approved by the Commodity Futures Trading Commission (CFTC). Due to the safety and security rules imposed by the CFTC, Nadex keeps the funds its users deposit in separate bank accounts.
According to the provider's website, more than 10,000 hourly, daily, and weekly contracts are traded on its browser and mobile platforms each week. As one of the best regulated binary options brokers in the USA, Nadex offers its users access to the following markets:
Forex: Users can trade fixed-risk contracts on various currency pairs such as EUR/GBP, EUR/USD, or USD/JPY.
Commodities: Traders can opt for low-cost fixed-risk contracts for a variety of commodity markets, including natural gas, crude oil, soybeans, corn, gold, silver, copper, and more.
Indices: Users can predict the price changes of global indices such as the S&P 500. This contract option includes predefined risk levels. Additionally, Nadex charges much lower fees than most futures and stockbrokers.
Events: With Nadex, you can speculate on the strength of the US economy by trading binary options based on economic events.
As one of the best binary options sites, Nadex lets you place your orders directly using the provider's proprietary software. The platform is fairly easy to use and offers multiple filtering options (by price, asset class, expiry time, and more).
As per binary options trading fees, you'll face a $1 cost on both the entry and the exit of your trade. Additionally, Nadex charges a $1 settlement fee per contract for trades that settle "in the money." Alternatively, if your binary options trade expires "outside the money," you won't face settlement costs.
This US binary options broker gives all of its prospective users a chance to test out the platform before making a deposit. A Nadex demo trading account comes with $10,000 in virtual money, making it an excellent arena for inexperienced traders to hone their skills. Should you decide to open a real-money account, you won't have to make an initial deposit. This elevates Nadex above other options brokers.
Another reason why we would recommend investing in binary options via Nadex is that the company provides excellent customer support, offers a comprehensive knowledge base, and even organizes webinars and daily market analysis events.
Reason to use this platform:
Desktop and mobile trading app
Demo account with $10,000 in virtual funds
Predefined risk and reward contracts
Opportunity to minimize losses by exiting trades early
Easy-to-use platform with several technical analysis tools
+ Show more
CX Markets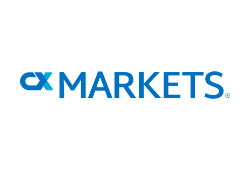 Minimum deposit
Not stated
Minimum trade size:
$0.10
Maximum returns:
Up to 80%
Formerly known as Cantor Exchange, CX Markets is a US-based company and one of the top-rated binary options brokers for US traders. This company works with binary options, weather forecasts, Forex, and precious metals. As per the regulatory aspect, CX Markets is operating under the supervision of the US Commodity Futures Trading Commission (CFTC).
As far as fees go, this online trading platform won't charge you anything for applying for an account, making deposits, or withdrawing funds. There is, however, a $2 monthly inactivity fee. The minimum trade price is $0.02. In-the-money settlements will also cost you $0.01, while out-of-the-money settlements won't incur charges.
As one of the best Forex binary options brokers, CX Markets allows its users to make Forex binary options trades at any dollar amount they can comfortably afford. Settlements are quoted in percentage points. During the trade, the platform deals in gold and the following currency pairs: GBP/USD, EUR/USD, EUR/JPY, USD/JPY, AUD/USD, and XAU/USD. Contracts' lifespan ranges from five minutes to 20 minutes, one hour, or the end of the day.
It's also important to mention that CX Markets' Forex binary options system is flexible enough to allow its users entry trades with only 30 seconds before the contract expires.
One of the downsides of this trading platform is that, unlike all other providers on our list, CX Markets doesn't allow you to test out the platform and learn about its capabilities before creating an account and making a deposit. However, if you are new to investing, you'll be glad to hear that the provider offers a rich library of educational resources, including how-to guides and video tutorials.
Furthermore, as one of the best regulated binary options brokers, CXMarkets employs a group of professional traders who are always there to help the less experienced site members with expert advice on how to handle their accounts.
Reason to use this platform:
Regulated by Commodity Futures Trading Commission
Excellent customer support
Low fees and commissions
Good choice for both new investors and trading veterans
US-based company
+ Show more
Everything You Need to Know About Binary Options
Based on a yes-or-no proposition, binary options offer a way to make trades with capped risk and limited profit potential. Both bid and ask prices are determined by the traders themselves as they speculate on whether the probability set forth is worth it or not.
These financial options either provide a payout of a fixed amount agreed upon in advance or no profit at all. That's why they are called binary options - there isn't a third settlement possibility.
A binary options trade is one of the simplest ways to make investments. Traders try to determine whether an underlying asset will be above or below a projected price at a particular time and place trades accordingly.
Given this simplicity, the financial markets worldwide, the United States included, have seen a considerable inflow of both binary options traders and platforms offering this type of investment capability.
Investors should come to a complete understanding of how they can trade binary options in the United States, getting familiar with everything from markets to timeframes, advantages, disadvantages, and - probably most importantly - legality and regulation.
First of all, it's important to mention that binary options are legal and available to trade in the United States. However, the tricky part is that not all companies offering these trading instruments are legally authorized to do so. Why is regulation so important, you may wonder?
Legal authorization is there to protect the investors, make sure their money is held in a separate account, and offer them a path to follow in the event of a dispute. Therefore, the best platforms for binary options for US residents should be those authorized by the proper agencies.
While there are several legitimate trading partners you can work with, the binary options market has recently been plagued with shady brokers offering instant money. A helpful rule of thumb here is that if an offer sounds too good to be true, it probably is, and you should stay away from it.
While almost all countries impose some kind of restrictions when it comes to binary options trading, the rules are a little different in the US. Given the risk to funds associated with this type of investment, binary options are perceived as gambling.
Therefore, brokers and exchanges offering binary options for US traders must be regulated or licensed by the US Securities and Exchange Commission (SEC) or the Commodity Futures Trading Commission (CFTC).
Considering that these governmental structures make sure to carry out all necessary activities to supervise and regulate fairness and rulemaking of binary options trading, it's advisable to partner up with brokers operating under the supervision of these government bodies, no matter if the platforms are US-based, or international, but with permission to offer their services to American traders.
FAQ
What is binary options trading?
A binary option is a type of option with a fixed payout in which the investor tries to predict the outcome from two possible results. If your speculation is correct, you'll get the agreed-upon payout. If your prediction doesn't come true, you'll only lose your initial investment.
These financial options are called binary because they can only lead to one of the two payoff options: A fixed amount or nothing at all. In other words, the premise behind a binary option is nothing but a simple yes-or-no proposition: Will an underlying asset be above a predicted price at a given time?
Is binary options trading legal in the USA?
The short answer is - yes, trading on binary options platforms is legal in the United States. However, while these financial options can be traded in the states, the trades must take place on a regulated US exchange. Binary options can be listed on registered exchanges or traded on Designated Contract Markets (DCMs), which are subject to the supervision of the CFTC or SEC.
Which brokers offer binary options?
Several trading platforms are either based in the United States or accept US investors even though they are based elsewhere. The list of our top picks includes Nadex, Pocket Option, Binarycent, and CX Markets. We hope this answers those wondering: "What is a binary options broker, and where can I find one?"
How to make money with binary options?
The concept of binary options trading is quite simple - all you have to do is choose between two possible outcomes. For example, you can select a currency pair such as USD/EUR and predict whether its price will go up or down after a certain period. If you predict correctly, you'll earn a profit amount that has been agreed upon previously. Alternatively, should you make a wrong prediction, you'll lose the money you've invested.
Before you start the process, make sure that you open an account at a regulated exchange, get familiar with the trading process, and choose the trading opportunities that are right for you. The best binary options brokers in the USA even offer demo accounts and round-the-clock expert help so that players can learn all about the features a particular platform offers before making an investment.