The Best Car Refinance Companies To Reduce Your Interest in 2022
Some or all of the products/services listed on this page are from our affiliate partners from which we receive commissions. This, however, does not influence the evaluations in our reviews. Learn more by reading our
Advertiser Disclosure
.
According to the latest car loan statistics, the average car loan debt in the US amounts to $26,162. If we calculate the interest on that loan amount, we'll discover that an average American pays over $4,450 in interest for a new car, while the amount paid for a used vehicle is even steeper, coming in at $5,833!
If you're currently paying off a car loan, you're probably wondering if there's a way to reduce the amount of interest you'll have to pay. The best auto refinance companies may offer the solution.
How To Find the Best Auto Refinance Loans
When choosing an auto refinance loan, many factors need to be taken into account. You'll need to consider your current financial situation, the loan terms and interest rates offered by each lender, as well as other aspects like credit score requirements for auto refinancing and the current state of your car. After all, you're looking to get the lowest interest rate for your new car loan, and save some money in the long run.
Get Familiar With Your Credit Score
Before applying for auto refinancing, the first thing you should do is check your credit score. If your credit score has improved since the time you took out your original car loan, you may be eligible for a new loan with more favorable terms. If it's low, you'll unlikely to get good enough rates to make the whole car loan refinancing process worth your while.
Consider Your Car
If your car is old and/or with high mileage, it may be worth less than what you owe on your loan. That usually means you won't be able to secure more favorable terms with a new loan, so upgrading your car may make more sense in this situation.
Compare Your Old Loan With the New One
The whole point of car loan refinancing is to replace your old loan with one that's got better terms. To determine if the new loan is more favorable than the old one, you need to compare the interest rates, term lengths, and your loan balance. You don't have to do this manually - there are many handy auto loan refinance calculators on the internet that can help you find out whether refinancing with a particular lender will pay off.
The best companies to refinance an auto loan will offer competitive rates and terms in addition to quick approval times, but depending on your credit score and the car you'd like to refinance, they might not be competitive enough. It's essential to do your research and compare multiple lenders' rates and terms before deciding.
Another important thing to check is whether your current loan has a prepayment penalty. Some lenders will charge you extra if you pay off your loan early, and this could potentially offset any savings from refinancing.
Check the Lender's Credibility and Track Record
Finally, it's vital to make sure you're dealing with a reputable auto refinancing company. That way, you'll avoid being scammed or ending up paying more in interest than before due to hidden costs and fees.
Furthermore, if you choose one of the car loan refinance companies that work as a refinancing marketplace, know that the partner lenders will perform their own credit checks on you before extending an offer. If they do a hard pull, it could damage your credit, so it's another thing to pay attention to. We advise you to do your research and read reviews by past customers to get an idea of what you can expect.
Quick Breakdown
Auto Refinance Companies: Our Top Picks
OpenRoad Lending - For the quick and easy application process

RefiJet - For applicants with lower credit scores

MyAutoLoan - For quick approval with multiple lenders

LightStream - For customers with high-mileage or old vehicles

RateGenius - For borrowers who appreciate transparency

PenFed - For low APR rates
Auto Refinance Lenders: Reviews
OpenRoad Lending
Minimum credit score:
500
Term length:
36-84 months
If you're searching for a better way to pay off your car loan, one choice is OpenRoad Lending. This lender reviews your application in minutes and provides impressive savings of up to $100 per month, flexible repayment terms, and a no-fees option.
Established in 2009, OpenRoad Lending is one of the nation's largest online auto finance companies. OpenRoad's refinance solution is available in 44 states and is definitely worth considering when looking for a car refinance loan from a trustworthy and dependable provider.
Credit Score and Car Requirements
Even though OpenRoad Lending works with borrowers from all financial backgrounds, certain requirements need to be met to qualify. First of all, similar to other car refinance companies, OpenRoad Lending asks its applicants for a minimum gross monthly household income of $2,000, allowing for a co-applicant.
The vehicle they're looking to finance should preferably meet certain standards set by the company - it can't be more than eight years old nor have over 160,000 miles on it. Also, OpenRoad Lending won't finance commercial vehicles or older vehicles that are no longer manufactured such as Oldsmobile or Daewoo.
Even though credit score isn't the most important factor when applying and OpenRoad Lending asks for a minimum credit score of 500, the approved borrowers mostly have a FICO score of 560 to 720.
Loan Types and Offers
Although most of the best auto refinance companies on the market offer loans for buying new or used cars, OpenRoad Lending specializes only in refinancing your existing auto loan. It offers excellent conditions, and you can choose the loan term that suits you best, from 36 to 84 months.
The interest rates start at 2.29% APR, which isn't the lowest we've seen, but it's still a good deal. The amount you can borrow ranges from $10,000 to $100,000. The company boasts that its customers save an average of over $100 per month or over $1,200 a year.
Once you refinance your car loan with OpenRoad Lending, you can also benefit from its extended service contract package, which offers a warranty beyond your manufacturer's warranty. Furthermore, OpenRoad Lending might be one of the best companies to refinance your car loan, as it provides Guaranteed Auto Protection (GAP) coverage in case your car is totaled or stolen and you owe more on loan than the car's worth.
Application Process
You'll need to fill out a short online form to apply for a car refinance loan with OpenRoad Lending. You'll need to provide personal information, such as your Social Security number, your vehicle's current mileage, a vehicle identification number (VIN), and your employment information.
An expert loan care agent will review your application, email you the offer's details, and you'll get approved within an hour. The good news is that the application is free, and in most cases you won't have to make a payment for the first 45 days.
Company Reputation and Support Availability
OpenRoad Lending is one of the very best companies to refinance a car. This tried-and-true lender has been in business since 2009 and is headquartered in Fort Worth, Texas. It's accredited by the BBB (Better Business Bureau) with an A+ rating and is a member of the American Financial Services Association.
OpenRoad Lending boasts a 98% customer satisfaction rating and offers 24/7 customer support via toll-free line and email. You can get your answers within the FAQ section on the website or talk to a dedicated expert loan care agent who will guide you through the process.
Reasons to Consider:
Award-winning customer support
Quick loan decisions and flexible financing options
Average savings of more than $100 a month
+ Show more
RefiJet Review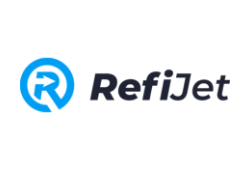 Minimum credit score:
500
Term length:
24-96 months
RefiJet was founded in 2016 and has since become a popular car loan refinancing option for customers at various credit tiers. Thanks to its partnership with more than 20 lenders, RefiJet can provide competitive loan rates, and its customer support is praised as being top-notch.
Credit Score and Car Requirements
RefiJet is one of the best auto refinance companies for bad credit. You can apply and get an offer with a credit score as low as 500 - although you shouldn't expect a great APR if your credit score is in that range.
As for the vehicle requirements your car needs to fulfill, the list is pretty standard: It shouldn't be older than 10 years or have a mileage higher than 150,000 miles.
Loan Types and Offers
RefiJet provides traditional auto loans, refinancing of an auto loan, cash-out refinance, and lease buyout loans.
Most of the offers depend on the specific lender you partner with via RefiJet. Some offer fee-free loans, while others have application fees. With RefiJet, you can borrow anywhere between $5,000 and $100,000. You can also choose the length of your loan - from 24 to 96 months.
Interest rates vary depending on your credit score. RefiJet will perform a soft check on your credit score and match you with various auto refinance loan companies.
Refinancing options at RefiJet are not limited to cars - you can apply to refinance your SUV, truck, or motorcycle loan as well.
Application Process
If you're unsure which loan would be right for you, giving the customer support team a call is probably the best first step. RefiJet is famous for its knowledgeable customer care agents, who'll guide you through the whole process.
You can also apply using the form available on the website and complete the entire process online. You'll be asked to provide your address, phone number, email, and birthdate. This info will be used to perform a soft credit check and determine your eligibility.
Once you've been matched with the lenders providing auto loan refinance, you'll receive their offers and payment estimates. You'll have 30 days to choose one of the proposals. Once you've submitted all the documents, it'll take about 24 hours for you to get approved, and funding will be on your account the following day.
Company Reputation and Support Availability
As mentioned, RefiJet's customer support is among the best in the market, and you can always count on the company's financial services representatives to help you out with your application. They're available Monday to Saturday via phone, email, SMS, and social media accounts.
The company has an A+ rating on BBB, and it's worth noting that none of the customer complaints on that site were left unresolved. (Most of the complaints were about the company's marketing tactics, which could be less invasive.)
Reasons to consider:
Excellent customer representative team
100% online loan process
Loan terms as long as 96 months
+ Show more
MyAutoLoan Review
Minimum credit score:
575
Term length:
24-72 months
MyAutoLoan is another reputable provider that'll help you connect with lenders with the best APR rates for refinancing your car loan. Founded in 2003, the company has established a vast network of partnerships, so once you apply for a loan, it'll provide you with not one but four offers within minutes.
Credit Score and Car Requirements
At 575, the recommended credit score for MyAutoLoan is slightly higher than the one required by RefiJet. Additionally, you have to earn at least $18,000 per year to prequalify for a loan. Other requirements - such as a down payment - might vary among the companies that refinance auto loans and work with MyAutoLoan.
As for your car, it must be 10 years old or newer and must have less than 125,000 miles on it. Overall, these are standard requirements, and you'll likely find similar ones with other lenders as well.
Loan Types and Offers
Currently, MyAutoLoan offers new-car loans, used-car loans, refinance loans, lease buyout financing, and private party loans. The suite of loans on offer makes it an excellent choice not only for refinancing your current vehicle but also for taking out a loan for purchasing a new car.
The loan amount ranges from $5,000 for refinancing or $8,000 for a new car to the maximum of $100,000. Depending on the type of loan you'd like to take and your credit score, you could be eligible for some of the lowest APRs in the market, starting at 1.99%. Loan terms range from 24 to 72 months.
Application Process
Applying for a loan with MyAutoLoan is relatively simple, and with some of the partner lenders, it can be completed entirely online. You start by filling out the form available on the site, which typically takes just a few minutes. You'll be asked to provide your personal and financial information and give your permission for a credit score pull. Note that multiple reviews of MyAutoLoan and its network of online auto refinance companies complain of lenders making multiple hard credit checks on their score, so this is definitely something to be mindful of when applying.
Once you complete your application, you'll receive up to four offers from various lenders. After you choose one and fill out the paperwork, you should have the funds in your account within 24 hours.
Company Reputation and Support Availability
MyAutoLoan has been on the market for nearly two decades and has an A+ rating on its BBB profile. Some customers on the BBB site have complained about the company's aggressive marketing tactics, but this is a relatively common issue even with the top-rated auto refinance companies.
Before opting for MyAutoLoan, note that the customer support team is available only via the online form. It's not always easy to contact the agents and get help if something goes south, so double-check whether you'd be comfortable with this before you apply.
Reasons to Consider:
Excellent refinancing APR
The online application process can be completed online
Get four offers in minutes
+ Show more
LightStream Review
Minimum credit score:
660
Term length:
36-84 months
LightStream was founded in 2012 and has since become one of the most trusted places to go to for any type of loan. It's also one of the best companies to refinance auto loans since here, you'll be able to find some excellent rates without fulfilling overly strict vehicle requirements.
Credit Score and Car Requirements
LightStream doesn't impose any strict requirements for your car. Its Lending Uncomplicated feature enables you to get a loan regardless of how much mileage your car has and the year it was manufactured.
However, it has stricter requirements when it comes to your credit score: You have to have a minimum credit score of 660 and a solid payment history, as well as a low credit utilization ratio, to get approved for a loan by this car refinance company.
Loan Types and Offers
As mentioned, LightStream is the place to go for all types of loans, no matter if you want to build a pool or finance your wedding. When it comes to auto loans, you can get one to buy a new or used car (or motorcycle), refinance an existing auto loan, or buy out your lease. The size of the loan varies from $5,000 to $100,000. Using the rate calculator available on the website, you'll be able to estimate the changes in your rate and monthly payments quickly.
Rates range from 2.49% to 9.49% if you set up AutoPay. Without this feature, auto loan refinance rates will be 0.5% higher. The terms differ slightly, too, as LightStream doesn't offer short-term loans as some competitors do. The shortest period you can apply for is 36 months, while the longest is 84 months.
Application Process
Applying for a loan with LightStream is quite simple, and you can complete the whole process online via your desktop or mobile device. All you have to do is fill out the form available on the site. Be prepared to provide an abundance of personal and financial data upfront as the online form is very detailed.
Company Reputation and Support Availability
This lender is a division of Truist Bank, an FDIC member. It's one of the auto loan refinance companies that offer loan experience guarantees, which means you can contact the company if you are unsatisfied with the service and receive a $100 refund after completing and submitting a questionnaire that'll be sent to you by email. Customer support is available Monday to Friday from 10 a.m. to 8 p.m. and Saturday from noon till 4 p.m. Eastern Time.
Reasons to Consider:
Loan satisfaction guarantee
Same-day loan payout
No car requirements
+ Show more
RateGenius Review
Minimum credit score:
500
Term length:
36-84 months
RateGenius has an impressive track record among auto refinance companies, as it was founded in 1999. Over the years, it has built an extensive network of more than 180 lender partners to provide its clients with competitive rates and loan terms. Catering to both those with perfect and less-excellent credit scores, RateGenius is a great option for refinancing your car loan.
Credit Score and Car Requirements
Apart from checking your credit score, which is a standard procedure, RateGenius will also look at your credit history, which should be at least 12 months long to satisfy the requirements of most of its partner car refinance companies. Your minimum annual gross income is also important and shouldn't be below $24,000. Applicants should also have a debt-to-income ratio lower than 65%.
There is also a set of requirements for your vehicle. If you're looking to refinance your car, it can't be older than 10 years. For lease buyout, the limit is five years. The maximum mileage is 150,000 miles for refinancing and 100,000 miles for a lease buyout.
Loan Types and Offers
At RateGenius, you'll be able to choose between car refinancing and lease buyouts. Unlike some of the other lenders from our list, it doesn't offer loans for purchasing new or used cars.
The lowest APR advertised on the website is 2.99%, but your rate, as always, will depend on your credit score and other requirements. The loan amount range with this lender is $12,000-$100,000, while loan terms vary from 36 to 84 months for auto refinance.
Application Process
Applying for a loan with RateGenius is similar to what we've seen with other auto refinance companies and can be done via the website. After you complete the step-by-step online procedure, you'll receive offers from lenders willing to provide you with a loan.
Once you decide to go with a particular lender and submit the necessary paperwork, it'll take approximately one to two days for the funds to reach your account.
Company Reputation and Support Availability
RateGenius is a BBB-accredited business and boasts an A+ score on that website. For a company that's been on the car refinance market for as long as this one, that is quite an achievement. Customer support can be reached via phone, email, or live chat available on the site. You'll also find heaps of useful information in the FAQ section, which is exceptionally well-organized and easy to search.
Reasons to Consider
Superb customer support
Refinance company with long history
Extensive lender network
+ Show more
PenFed Review
Minimum credit score:
550
Term length:
36-84 months
Pentagon Federal Credit Union or PenFed is a federal credit union that can offer you some excellent auto refinance loan rates, provided that you become a member. It stands out among the competition as the best auto refinance option for customers who value transparency above all.
Credit Score and Car Requirements
The basic requirement for taking out a loan at PenFed is that you're military personnel or a member of associations such as the American Red Cross or Marine Corps League. Alternatively, you can also become a member of PenFed by donating to an eligible charity or opening a ​​$5 PenFed savings account.
Apart from becoming a member, the applicant should have a credit score of at least 550. The website doesn't disclose any other requirements for applying.
Loan Types and Offers
PenFed offers a range of loans for different purposes, including personal loans, student loan refinancing, and home equity loans. The reason it got featured on this list, however, are its excellent rates for auto loans and auto loan refinancing.
The rates for auto loan refinancing with PenFed start at 1.79%. Your rate will depend on whether your car gets classified as "new" (models made in 2021 or newer, and those with less than 7,501 miles), or "used" (preowned cars and those with a mileage exceeding 7,501 miles), your loan term (can be 36, 48, 60, 72, or 84 months), and the loan amount (from as low as $500 up to $150,000).
Application Process
The application process can be completed online. The procedure is more complicated if you're not already a member. In that case, as mentioned, you'll first need to open a savings account.
To extend you an offer, PenFed will first perform a soft pull that won't impact your credit score. If, after reviewing the offer, you decide to apply, you'll have to authorize a hard credit check that may have a negative effect on your score.
Company Reputation and Support Availability
PenFed is the nation's third-largest federal credit union that's been in business for 86 years, so its reputation is unquestionable.
However, when we checked its standing on BBB, like we did with other refinance companies for auto loans, we discovered that, despite having an A+ rating, the business is not accredited and has a poor customer satisfaction score. Most of the complaints are aimed at PenFed's fraud department, which doesn't seem to be effective in solving clients' problems related to identity theft. Some customers have also complained about the process of loan approval being slow and of customer support being difficult to reach.
Reasons to Consider:
Excellent APR rates
Transparent rates and requirements
Small loan amounts available
+ Show more
FAQ
Which credit union has the lowest auto refinance rates?
There are many credit unions that offer auto refinance loans. One of the best is PenFed, which offers auto refinancing at rates as low as 1.79%. This financial service provider has been in business for over 80 years and provides loans with transparent terms and no hidden fees.
Is it reasonable to refinance an automobile?
Yes, but only in certain situations. Refinancing your auto loan can save you money by reducing your loan balance. To achieve this, you need to find and get approved for an auto refinance loan with an APR lower than the loan you're looking to refinance. This, however, is practically only possible if your credit score is now higher than what it was when you took the original car loan.
What is a good APR for refinancing a car?
It depends on several factors, most notably, your credit score. Statistics from two years ago tell us that the average APR for an excellent credit score was 4.36%, while for bad credit scores, it was 16.27%. Therefore, any APR lower than that would be considered more favorable than the average.