In-Depth Analysis
Novo Bank Review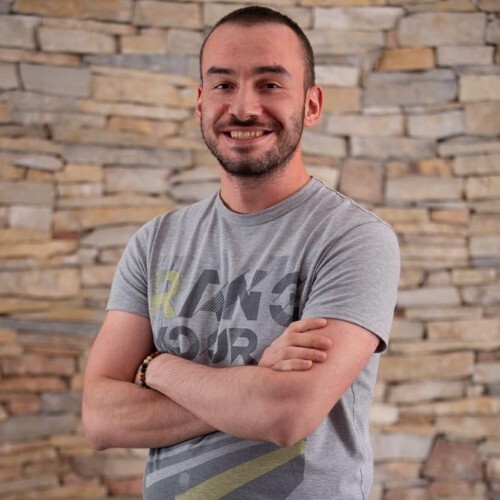 ---
Some or all of the products/services listed on this page are from our affiliate partners from which we receive commissions. This, however, does not influence the evaluations in our reviews. Learn more by reading our
Advertiser Disclosure
.
Novo is a digital bank that offers free business checking accounts for small-business owners and entrepreneurs. Small businesses that use Novo can set up their account to give them instant visibility into everything from e-commerce sales, to pending invoices, and cash-on-hand.
Novo is more than a standard business checking account. Their product allows the ability to pull in data from other business tools like Stripe and Shopify, and then push data out to tools like Zappier, Quickbooks, and Slack. Novo offers modern banking services through its online dashboard and mobile app, allowing clients to make deposits and withdrawals via ACH, wire transfers, and mailed checks for free.
Direct integration with dozens of business apps, like Intuit Quickbooks, Xero, and Stripe, is another benefit you can enjoy with Novo.
Our Novo bank review will showcase its features, fees, and requirements to help you decide if this digital banking platform is the right option for your business.
Monthly maintenance fees:
$0
FDIC-insurance: Yes
Visit Website
Fortunly Rating
Fortunly's Rating: Our editorial team determines the rating based on a set of evaluation criteria developed for each product and service category.
Minimum opening deposit:
$50
Monthly maintenance fees:
$0
Minimum monthly balance:
None
Strengths
Fee-free bank
Fast three-step application process
Direct integration with numerous business tools
All ATM fees are refundable
Android, iOS, and Web apps
Free budgeting tool
Weaknesses
No cash deposits
No recurring payments
Overview
Founded in 2016, Novo is a business banking platform specially designed for small-business owners, freelancers, and startup founders. The New York-based provider is not a traditional bank, but a fintech company that provides banking services through an online platform. Novo's mission is to provide the best financial services for entrepreneurs by offering them fast and direct integration with a wide range of business tools, including Square, Stripe, Shopify, Quickbooks, Xero, Ebay, Slack, and many others.
Novo's business checking account is the company's only traditional financial product. Since Novo is not a bank, and a bank does not own it, its operations are supported by Middlesex Federal Savings. This reputable bank and FDIC member is Novo's business partner; for Novo customers, that means business checking accounts are secured and protected, regardless of what happens with Novo. Each account is insured for up to $250,000 per depositor.
By combining traditional checking accounts for businesses with modern technology, Novo offers a user-oriented business account for secure and easy money transfers, and entirely free business accounts with no minimum balance requirements.
Novo banking is completely customer-oriented: Aside from direct integrations with a wide range of business apps, Novo provides additional financial planning and budgeting tools to help business owners save time. However, the main benefit of its business checking is that it's completely online, so you can manage all transactions through the Novo app for iOS and Android.
During our evaluation process, we checked how the clients rate Novo's services. Trustpilot reviews prove that this company offers secure and easily manageable business checking accounts. There are some complaints related to its lack of physical branches, but as Novo is fully digital, this is only relevant for those completely reliant on face-to-face banking. If that's you, Novo will probably not be the right choice.
How does Novo compare to other banks?
Novo
Minimum initial deposit:
---
$50
Monthly fees:
---
No
Visit Website
Capital One
Minimum initial deposit:
---
$250
Monthly fees:
---
$15
Visit Website
PNC Bank
Minimum initial deposit:
---
$100
Monthly fees:
---
$10
Visit Website
Getting Started with Novo
As explained, Novo allows you to open a checking account for your business and manage it through an online dashboard and mobile app. There's no physical branch where you can go to open an account, but this shouldn't stop you from working with Novo, as the application is a simple, three-step process. If you need any help to complete the application, Novo's customer service will be there to help you.
How to Apply
To start your Novo application, just click on the "Get Started" button in the upper-right corner of the screen, right next to the Novo bank login button.
Like with any other account for a small business, you'll need to provide the necessary personal and business information to become a client. Novo will review your application within two to three days after your document submission.
Requirements
If you want to become a Novo client, you'll need to meet certain criteria: First of all, each applicant has to prove their residence within the US. You'll also need to provide the following information:
Name and a US home address
Proof that you are at least 18 years old
Social Security Number
US cell phone number
Driver's license or passport
Photo of your ID
Businesses Eligible for Novo Business Banking
Novo's product is designed for small businesses, startups, and entrepreneurs registered in the US. Here's a list of business entities eligible to open a Novo account:
LLCs
Partnerships
Corporations
Sole proprietorships
You'll need to provide the required business documentation, depending on the type of business you own. For example, if you run an LLC, you'll be asked to submit the Operating Agreement and Certificate of Formation. The bank will also ask for state-specific documents.
However, do not worry: You will receive timely notification from the Novo team regarding the documents necessary for your type of business. 
What's Next?
After you file everything, Novo bank checks your application and contacts you if you need to provide additional documents. Novo will notify you once your application is approved, so you can start funding the account. Log in through the online dashboard or download a mobile app for your phone to access Novo funding. As mentioned, the Novo app is available for both iOS and Android phones and offers Novo's full functionality.
Money Transfers
Novo offers several ways to fund your account, including ACH transfers, mailed checks, and wire transfers. The company's mission is to provide you with effective mobile and online banking so you can quickly make and receive payments, and deposit checks.
Novo has no credit card, but you can apply for a debit card. Novo can connect with an external bank account, PayPal, and Venmo via your mobile app.
Unfortunately, Novo doesn't allow clients to deposit cash. Cash deposits are typically tricky for online-only banks, so this is to be expected. 
Novo doesn't accept e-checks, either. Instead, you can use ACH transfers and receive money directly to your account.
Who Is Not Eligible for Novo?
If you want to apply for a business account at Novo, first check if your business is eligible for it. Novo startup banking accepts applications from various industries, but the platform will not do business with the following fields:
Companies that work with cryptocurrencies
CBD-related businesses
Crowdfunding platforms
Adult entertainment
Privately-owned ATMs 
Gambling
Money services 
Fees
One of the main advantages of the Novo account is that it's entirely free. Unlike many other similar accounts, the Novo account doesn't require any monthly maintenance fees or minimum account balances. You will not pay for incoming and outgoing ACH transfers, incoming wire transfers, and there are no Novo bank fees for stop payments. If you need to replace your debit card, Novo won't charge you anything.
Interestingly, Novo bank doesn't ensure a network of fee-free ATMs that you can use to withdraw money. However, you don't need to worry about ATM fees. You can use any ATM in the US, and Novo will reimburse all costs as a bulk refund to your account at the end of each month.
With Novo, you will also get free mobile check deposits and they will mail checks for free. There are no fees on a physical check bill payment either. However, this business bank account charges fees on uncollected fund returns and insufficient funds. Novo's cost for these services is $27.
Unlike many other accounts for small businesses, Novo doesn't require a minimum deposit to open an account, but you will have to deposit at least $50 to "unlock all the features" Novo has to offer.
Features
Debit Card
Novo offers a free debit card that you can ask for during the application process. After you are approved for an account, the bank will send a Mastercard debit card to your home address.
Novo automatically provides only one debit card per account. However, if you need more cards for multiple users, you can ask for them. It is possible to add multiple users to your account through the Novo mobile app. With a Novo bank card, all of your partners will have access to the business account, allowing them to withdraw and transfer funds.
Online and Mobile Banking
The company's headquarters are in New York, but there are no customer-facing Novo bank locations. The team focuses on providing above-average online banking services.
You can make payments or send invoices through the online dashboard or mobile app. You can also connect your Novo card with Apple Pay or Google Pay.
Novo Reserves Budgeting Tool
Even though it doesn't have many other aspects of a traditional bank, Novo reviews show that clients are delighted with Novo's budgeting tool. Novo Reserves enables clients to manage funds and allocate the money they want to use for various purposes. For instance, you can set aside money for paying bills or just save it for the future. The funds still stay on your business account, and you'll be able to access them any time.
Invoicing
Another great feature that Novo clients get is invoicing. With a Novo account, you can create as many invoices as you want and receive payments. The Novo invoice system can be set up and managed through the mobile app, and the initial process only takes a few minutes.
You can use ACH transfers, or connect your Novo account with Stripe to process invoices.
Novo App Marketplace
Many business owners will be happy to hear that Novo enables direct integration with different business tools through their App Marketplace. For example, you can link Novo with QuickBooks. All transactions made by your company will be automatically synchronized with Quickbooks, freeing you from everyday bookkeeping tasks. On top of that, you'll get a 40% discount on any QuickBooks package for the first six months.
If you want to use Novo for payments, the Stripe integration is also available and Novo is a Stripe Verified partner. Other business apps, like Slack, Shopify, and Zapier, can connect with your Novo account and simplify your everyday business tasks. Additionally, you can connect Novo with PayPal, Wise, and Square, but there's no direct integration with these apps at this moment.
Novo Perks
Novo is in a partnership with dozens of companies, so you can expect discounts on software programs and services like Booking, HubSpot, Zendesk, Segment, and Salesforce. These are just some of Novo's partners, and the list is growing. 
Customer Support and Security
Novo is a relatively new banking platform, but it did its best to secure its clients' accounts. As mentioned, Novo's insurance is backed by Middlesex Federal Savings, an FDIC-member bank. Thanks to that, Novo offers up to $250,000 in insurance per depositor.
As a fintech company, Novo employs the latest security measures to ensure clients' privacy. The company also guarantees that all private information is kept safe from third-party apps.
To protect your account, the company will let you use two-factor authentication. Furthermore, the Novo team will always be monitoring your account activity to protect it from unauthorized usage.
Should you have any questions regarding your account, you can always contact Novo support. The fastest way to reach an agent is through the Novo mobile app. You can also send an email, and the support team will get in touch with you in the shortest possible time. You can also find the Novo bank phone number on your debit card, but that's available only for existing Novo clients.
Novo customer support is available during business days from 9 a.m. to 6 p.m.
Room for Improvement
With a Novo account, you can make payments via ACH transfers or mailed checks. In addition, you can set up your recipients' information through the online dashboard to make every next payment faster. Unfortunately, there's no option to set up automated payments, meaning that you'll need to keep an eye on due dates and pay bills manually.
Our Novo business checking review wouldn't be fair if we didn't compare other business bank accounts with Novo. Unlike other providers, Novo doesn't allow cash deposits. It means that you cannot deposit cash to your Novo account through an ATM, but you'll need to purchase a money order and deposit a check through the Novo mobile check option.
FAQ
Is Novo bank legit?
Yes, Novo is a legitimate banking platform that offers business checking accounts for small-business owners, entrepreneurs, and freelancers.
Is Novo safe?
Novo is a safe place to keep and manage your money. Novo reviews each account's activity for anything suspicious. If someone tries to access your account without permission, the Novo team will immediately inform you about that.
Who is Novo bank owned by?
Novo is a tech company, meaning that it is not owned or operated by any bank. The banking services are supported by Middlesex Federal Savings, a financial institution in partnership with Novo. Thanks to this bank, you may rest assured that your money is at a safe place as all Middlesex Federal Saving accounts are FDIC-insured.
Is Novo bank free?
Dozens of Novo business banking reviews praise this company because it offers fee-free business checking accounts. There are no monthly maintenance fees and balance requirements. There are no fees for ACH transfers or an incoming Novo wire transfer. You can also use any ATM you want, and Novo will refund you all fees at the end of each month.
However, you will need to deposit $50 to fully unlock all features, but a Novo account is generally a fee-free account aside from this cost.
How to open a Novo account?
Novo is a digital business platform without physical branches. If you want to open an account, you need to access the Novo website and start the online application procedure. It's easy enough to complete the online application independently, but if you need additional help, contact support via email. Unfortunately, the Novo bank contact number is not available for non-Novo clients. Additionally, you can read our Novo bank review to find more about application requirements and procedures.